New BEYER EVORTLE CT-535 jaw crusher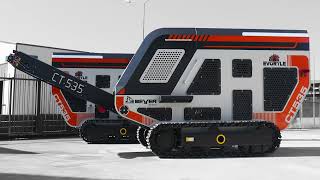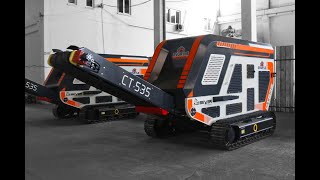 1/11
Location
Turkey
Placed on
more than 1 month
Description
Overall dimensions
18.7 ft × 6.99 ft × 7.41 ft
Evortle is dedicated to manufacture
products, specialized in mobile jaw
crushers. Evortle has designed Jaw
Crushers to meet the customer
demands of primary crushing needs
with reliability, efficiency and high
performance. Our pioneering mobile
jaw crusher CT 535 is a powerful
example. Whatever the duty, CT 535
jaw crusher yields higher level of
productivity, while maximizing the use
comfort in a cost efficiency way.
Mobile Jaw Crushers are expected to
do reduction and sizing of aggregates
for road construction, demolition,
recycling, landscape, quarrying &
mining applications. It can crush every
kind of material coming from building
demolition or material crushing such
as concrete, reinforced concrete,
marble, rocks, rubble, bricks, tiles etc.
transforming the waste into a reusable
material.
Being fully remote controlled and
easy to transport, it allows for fast
and simple set-up and working
procedures by a single operator.
Also it increases personal safety
during operation of the crusher
or an excavator or loader
working on site.
Bring the crusher to the working
field, select the desired output size,
push the start button for running the
crusher and conveyor system and start
crushing in less than 5 minutes.
Evortle CT 535 comes complete with
a diesel engine. The machine can be
powered from that high performing
hydraulic feed drive and able to work
wherever you may not have access to
other power sources. Jaw crusher can
be adjusted hydraulically so changing
the product size takes less than one
minute. The output product sizes to
range from 20mm up to 100mm with
the help of hydraulic adjustable jaw.
CT 535 is small enough to fit inside
a container of transport to decrease
transport costs.
Magnetic conveyor is additional
function. It removes the steel found
in the waste and separate it to recycle
for additional gain with one operation.
The machine is designed to have easily
long survivability with improved all
round preventative maintenance.
CT 535 is an optimal solution for your
crushing tasks to maximize your return
of investment.
Important
This offer is for guidance only. Please request more precise information from the seller.
Safety tips
Seller's contacts
Eyup Mantar
Languages:
English, Turkish
Turkey, Saray Mahallesi, Keresteciler Sanayi Sitesi Keresteciler Bulvarı No:36/B, 06980 Kazan/Ankara, Türkiye
Seller's local time: 01:34 pm (+03)
Selling machinery or vehicles?
You can do it with us!