New UMMAN UC60 Kompakt betonmischanlage 60 m³/h concrete plant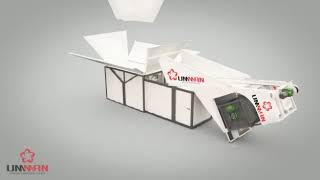 1/15
Model
UC60 Kompakt betonmischanlage 60 m³/h
Year of manufacture
12/2021
Location
Turkey
Ankara
Placed on
more than 1 month
Description
Overall dimensions
57120 ft × 52840 ft × 29880 ft
UMMAN Concrete Batching Plants UC 60 series compact plant contains a robust and durable chassis, double shaft mixer, weighing hopper, aggregate hopper, aggregate weighing band, transfer bucket, cement helix, air compressor. It can be easily transported, quickly installed and can serve you quickly with minimum labor. It is suitable for long-term productions and for the production of high quality concrete in your productions. Compact power plants can be operated quickly and easily as they do not need foundation and loading ramps due to their structure.

Technicial Specifications ;
Plant Capacity: 60 m³/h

Mixer Specifications;
Mixer Capacity: 1 m³
Dry Filling Volume: 1500 Liters
Compacted Concrete: 1000 Liters
Motor Power: 2x22 Kw
Mixing Arms: 8 piece

Weighing Bunker Capacitiys;
Aggregate Weighing Capacity: 2500 kg
Cement Weighing Capacity: 500 kg
Water Weighing Capacity: 250 Liters
Additives Weighing Capacity: 15 Liters
Plant Water Needs: 25 tons/hour
Additives Pump Motor Power: 0.75 Kw

Aggregate Bunker;
Aggregate Compartment: 4 Eye
Compartment Capacity: 10 m³
Total: 40 m³

Aggregate Weighing Belt;
Width: 800mm
Length: 3500mm
Vibro Motor Power: 7,5 kW
Transfer Skip Hoist;
Width: 2000mm
Length: 9000mm
Motor Power: 15 kW

Cement Screw Conveyor;
Diameter: 219mm
Length: 11500mm
Motor Power: 11 kW

Air Compressor;
Pressure: 6-8 bar
Air Tanks: 400 Liters
Air Flow: 980
Motor Power: 5.5 kW
UC60 Compact Concrete Batching Unit Equipment:
Double Shaft Mixer
Weighing Bunker
Aggregate Bunker
Transfer Tapes
Cement Auger
Control Cabinet
PC and Automation System

Please CALL us for our other Concrete Batching Plants and customer-specific solutions!
UMMAN бетонные заводы Компактная установка серии UC 60 включает прочное и надежное шасси, двухвальный смеситель, бункер для взвешивания, бункер для инертных материалов, ленту для взвешивания заполнителей, передаточный ковш, спираль для цемента, воздушный компрессор. Его легко транспортировать, быстро устанавливать и быстро обслуживать с минимальными трудозатратами. Он подходит для долгосрочного производства и для производства высококачественного бетона на вашем производстве. Компактные электростанции можно легко и быстро эксплуатировать, поскольку они не нуждаются в фундаменте и погрузочных пандусах из-за их конструкции.

Технические характеристики
Производительность установки: 60 м³ / ч

Особенности микшера;
Емкость смесителя: 1 м³
Сухой заполненный объем: 1500 литров
Уплотненный бетон: 1000 литров
Мощность двигателя: 2x22 кВт
Смесители: 8 шт.

Вместимость бункера для взвешивания;
Общая взвешивающая способность: 2500 кг
Грузоподъемность цемента: 500 кг
Объем воды: 250 литров
Емкость для взвешивания добавок: 15 литров
Потребность в воде для электростанции: 25 т / ч.
Мощность двигателя насоса присадки: 0,75 кВт

Агрегатный бункер;
Количество агрегатов: 4
Объем проушины: 10 м³
Всего: 40 м³
Пояс для взвешивания агрегатов;
Ширина: 800 мм
Длина: 3500 мм
Мощность вибромотора: 7,5 кВт

Передаточный ковш;
Ширина: 2000 мм
Длина: 9000 мм
Мощность двигателя: 15 кВт
Цементный шнек;
Диаметр: 219 мм
Длина: 11500 мм
Мощность двигателя: 11 кВт

Воздушный компрессор;
Давление: 6-8 бар
Воздушные баллоны: 400 литров
Воздушный поток: 980
Мощность двигателя: 5.5 кВт

омпактное дозирующее устройство для бетона UC60:
Двухвальный смеситель
Весовой бункер
Агрегатный бункер
Трансферные ленты
Цементный шнек
Шкаф управления
ПК и система автоматизации

ПОЗВОНИТЕ нам, чтобы узнать о других наших бетонных заводах и решениях по индивидуальному заказу!
Umman Beton Santralleri UC 60 serisi kompakt santral içerisinde sağlam ve dayanıklı bir şase, çift milli mikser, tartı bunkeri, agrega bunk eri, agrega tartım bandı, transfer kovası, çimento helezonu, hava kompresörü bulundurur. Kolay taşınabilir, hızlı kurulabilir ve minimum işçilik ile hızlı bir şekilde sizlere hizmet sunabilir. Uzun süreli üretimler yapmak ve yaptığınız üretimlerde son derece kaliteli beton üretimi için uygundur. Kompakt santraller yapısı gereği temel ve yükleme rampasına ihtiyaç duymadığı için hızlı ve kolay bir şekilde çalıştırılabilir.
Teknik Özellikler
Santral Kapasitesi: 60 m³/h
Mikser Özellikleri;
Mikser Kapasitesi: 1 m³
Kuru Dolu Hacmi: 1500 Litre
Sıkıştırılmış Beton: 1000 Litre
Motor Gücü: 2x22 Kw
Karıştırıcı Kollar: 8 adet
Tartı Bunker Kapasiteleri;
Agrega Tartım Kapasitesi: 2500 kg
Çimento Tarttım Kapasitesi: 500 kg
Su Tartım Kapasitesi: 250 Litre
Katkı Tartım Kapasitesi: 15 Litre
Santral Su İhtiyacı: 25 ton/h
Katkı Pompası Motor Gücü: 0,75 kw
Agrega Bunkeri;
Agrega Göz Adedi: 4 adet
Göz Kapasitesi: 10 m³
Toplam: 40 m³
Agrega Tartım Bandı;
Genişlik: 800 mm
Uzunluk: 3500 mm
Vibro Motor Gücü: 7,5 kw
Transfer Kovası;
Genişlik: 2000 mm
Uzunluk: 9000 mm
Motor Gücü: 15 kw
Çimento Helezonu;
Çap: 219 mm
Uzunluk: 11500 mm
Motor Gücü: 11 kw
Hava Kompresörü;
Basınç: 6-8 bar
Hava Depoları: 400 Litre
Hava Debisi: 980
Motor Gücü: 5,5 kw

UC60 Kompakt Beton Santrali Ünitesi Ekipmanları:
Çift Milli Mikser
Tartı Bunkeri
Agrega Bunkeri
Transfer Bantları
Çimento Helezonu
Kontrol Kabini
PC ve Otomasyon Sistemi

Diğer Beton Santrallerimiz ve müşteriye özel çözümlerimiz için lütfen bizi ARAYINIZ!
Important
This offer is for guidance only. Please request more precise information from the seller.
Safety tips
Seller's contacts
Najeh Abushehadeh
Languages:
Turkish, Arabic
Ahmet Nizam
Languages:
English, Turkish, Russian
Deniz Şanti Dumrul
Languages:
English, Turkish
Turkey, Ankara, Türkistan Cad. No:7 Sincan Organize Sanayi Bölgesi
Seller's local time: 06:25 pm (+03)
Selling machinery or vehicles?
You can do it with us!